Korea is the land of all thing cute, of oppas, of adorable cafes and beauty loots. This country gives you all sorts of touristy spots from palaces to the beautiful Nami island but traveling  here can be expensive. Good thing Chedric Angeles from TripZilla shared how he managed to wisely tour South Korea for 7 days with just $335 in his pockets. Read on to know more about this.

Airfare
Thanks to the birth and proliferation of low-cost carriers, travelling to the K-Pop nation is not anymore an option, it's a must! I booked 9 months before my flight and luckily opened the web browser with a surprise. Without any hesitation, I reserved my ticket to South Korea via Cebu Pacific.
Cost: ₱6,510.31/$138.34 (inclusive of round-trip meals on-board, 20-kg baggage allowance, seat selection, terminal fee, Fly Me Next privilege)
Quick tip:
The technique doesn't change at all. Scoring a wallet-friendly airline ticket fare entails a simple effort; make it part of your daily or weekly grind. Always check! Or better yet, subscribe to their newsletter!
Accommodation
In my post about Hostel Maru, I mentioned all the inclusions of a ₱441/$9 per night stay. To cite some, an unlimited American breakfast, high-speed Wi-Fi, showers, etc. Book it to stay cheap and stay hip!
Cost: ₱3,085.00/$65.55 for 7 days
Quick tip:
I discovered that when reserving your accommodation, booking late is a good thing this time. Which contradicts the hack in booking an airline ticket. Based on my experience, I booked my stay 2 days before the check-in date. It was by accident when I realized that most of the hostels I was browsing through the previous weeks, obviously cheapen their prices to almost 70%-80%! I was then indecisive of which guesthouse to stay at, which brought me to a late but cheaper reservation. Cool right?
Food
With a budget of ₱400/$8.5 per day, surely you can find a decent and delicious meal without getting your wallet run on empty. You can opt for store-brought ramyun, cheap meals in subway stations, restaurants like the Food Cafè, and of course, street food!
Cost: ₱2800/$42 for 7 days
Quick tip: 
Since breakfast is the most important meal of the day, always do a run through the inclusions when booking your hostel/guesthouse. It's best when there's free breakfast; it'll save you up a bunch of money. Plus you can bring with you whatever breakfast is served, placed in a plastic container. That's what I did and trust me, it's the best tip ever.
Transportation
As I've mentioned in my previous post, the fastest way to get you to your favoured tourist attractions is through subway. Upon arrival at the airport, you can already purchase your T-money card. Convenience stores, all subway stations, and other dealers (with the T-money logo) sell these cards as well.
Costs:
T-money card –  ₱1,566.10/$33.11 (loaded up with ₩40,000, good for 7 days)
Bus – ₱236.04/$5.02 (Gapyeong shuttle bus that will take you to Nami Island and Petite France)
Ferry – P314.73/$6.7 (ferry to Nami Island)
Quick tip:
The advantages that the T-money card can be overwhelming; it can also be used when riding a bus, some taxi cabs, public telephones, and when making a purchase at convenience stores and vending machines. Works just like your debit card!
Activities and admission fees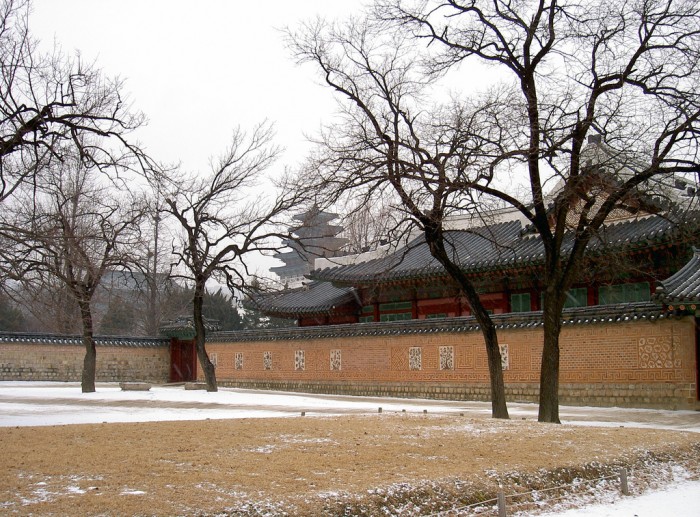 Gyeongbokgung | Image credit: Makoto Nakashima
Listed here are the fees to different attractions in my DIY 7-day Itinerary.
Costs:
Gyeongbokgung Palace – ₱118.02/$2.5
Deoksugung Palace – ₱39.34/$0.83
Namsan Seoul Tower (one-way cable car) – ₱236.06/$5.02
Trickeye Museum – ₱590.15/$12.56
Petite France – ₱314.70/$6.7
Quick tip:
Don't consider going to Nami Island and Petite France on a Sunday, these two places are a bit touristy. Another thing, the four major palaces in Seoul (Changdeokgung Palace, Changgyeonggung Palace, Deoksugung Palace, Gyeongbokgung Palace) have an Integrated Palace Ticket for ₩10,000/₱392.87/$8.35 valid for 1 month of unlimited use.
Visa processing
Fortunately, the Philippines is given a lenient process in terms of visa application. On top of that, 59-day tourist visa can be availed for free!
Quick tip:
It's better to include your roundtrip itinerary receipt (if you've booked already) for a higher chance of getting your visa application approved; although that's not listed as one of the requirements. It will serve as a strong supporting document. The price of visa processing through a travel agency ranges from ₱800-₱1,000.
To sum it all up, here's the breakdown of expenses:
Airfare – ₱6,510.31
Accommodation – ₱3,085.00
Food – ₱2,800.00
Transportation– ₱2,124.47
Activities and additional fees – ₱1,298.27
Visa processing – Free of Charge
TOTAL – ₱15,818.05 / $335
Click this for more details.
Article written by Chedric Angeles and posted in TripZilla